Vous recherchez dans le domaine des éco-innovations
Plus de critères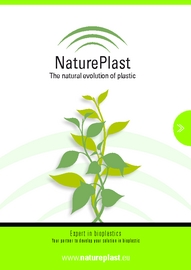 trading
,
natureplast
,
fallowing
,

Descriptif
Main informations about NaturePlast in english.

Aperçu du contenu du document
Le contenu ci-après a été extrait automatiquement du document au format PDF afin de vous permettre d'en valider la pertinence. Pour bénéficier de la qualité de la mise en forme originale, nous vous proposons de télécharger le document.
NaturePlast
The natural evolution of plastic
Exper t i n b i o p l a s t i c s
Your partner to de v e l o p y o u r s o l u t i o n i n b i o p l a s t i c

An unavoidable evolution !
The evolution towards bioplastics cannot
be ignored. Consumers are in demand.
Looking for innovation
Engineers are developing them. Industrials
with no revolution?
are already using them.
Bioplastics are already everywhere: in research
Insert bioplastics
labs, in marketing projects, in converters fields
in your marketing
of studies, in mass-production industries, and
tomorrow… at home! Today, the use of polymers
and R&D!
derived from sustainable resources is a fact.
In all fields, the use of bioplastics has naturally
taken its place in our businesses: wrapping,
packaging, finished products (pens, flowerpots,
cosmetic bottles, credit cards…). But their newly
discovered properties will lead them to explore
new grounds. Some are fully biodegradable
and/or compostable.
Bioplastics are your best allies to lead your
company to the implementation of a truly
sustainable development. Through your
manufactured goods or your packaging, their
Tomorrow's bioplastics will be
natural added value is likely to improve the way
produced from biomass (waste,
algae, sewage…).
your customers perceive your company.
Today's bioplastic
pellets are issued
from vegetal resources.
Our products
Raw materials
Additives and fil ers
Half finished products
> Raw materials (PLA,
> Properties improvements
> Films
PHA, biodegradable copolyester,
> Processing aids
> Rolls
starch-based...)
> Coloring agents
> Sheets
> NaturePlast compounds
> Vegetal fibers
…
NaturePlast
The natural evolution of plastic
NaturePlast
The natural evolution of plastic
PRODUCTS
3
Raw materials
areas of expertise
Additives
for comprehensive support
in your development projects in bioplastics
NaturePlast
BIOPOLYNOV
The natural evolution of plastic
Bioplastics R & D
SERVICES
R&D
Trainings
Customized formulation
Techno-economical watch
Characterization
Project engineering
Production of compounds
Technical assistance
Our clients
Converters
Waste valorization
Buyers
Chemists
Current and future
Producers of plastics
producers of bioplastics
Distributors of plastics
Laboratories
Technical centers
Universities
Raw materials
NaturePlast
group in
NaturePlast
Additives
The natural evolution of plastic
bioplastic
Converters
World imports of all
types of bioplastics
value chain
BIOPOLYNOV
Bioplastics R & D
Natural fillers
R&D step
(modification / optimization
of raw materials)
Our services
Training
NaturePlast offers two types of training to have a better understanding of bioplastic's market:
• Multi companies generic training
• On site company training
• Program: materials, properties, applications, certifications, environmental data...
NaturePlast has a registration number from the Ministry of Labour.
Techno-economical watch
Survey is an important activity for any business. It is even more for new markets in evolution such as bioplastics.
New additives and raw materials are regularly developed by producers and serve to broaden the scope of these
materials. A constant techno-economical watch allows NaturePlast to possess a large knowledge of worldwide
bioplastic network (current and future producers, converters, laboratories and R & D, applications...).
Projects engineering
NaturePlast follows you and carries you to edit your projects in terms of:
• Feasibility study and market study.
• Writing specifications.
• Seeking technical and industrial partners, universities…
• Definition of stages, schedules and associated budgets.
Technical support
Like all plastics, biopolymers have their own converting properties (temperature, shrinkage, rheology...). Thanks
to the experience gained with several hundreds of clients, NaturePlast possesses a strong knowledge of the
transformation of its materials and their characteristics. Our team of experts will assist you in your testing so you
can grip easier and faster to these new materials.

NaturePlast
The natural evolution of plastic
Strengths
How bioplastics serve the industry
Increased awareness of public opinion for environmental problems.
The sustainable development approach: the use of bioplastics offers a wide range
of advantages and benefits for your business.
The advantages for the company:
• New communication on company values.
• Company's commitment in a true sustainable development approach.
• Company at the cutting edge of innovation.
The benefits for the product:
• Communication on packaging / differentiation on stands.
• Media communication (TV / press / radio).
• Technical advantage (biodegradability).
Examples
NaturePlast
The natural evolution of plastic
Bioplastics
"Bioplastics" define polymers produced from plant resources renewable every year and/or biodegradable
and compostable.
Raw materials used for production of biopolymers called "first generations" are generally derived from
plant resources. Many researches tend to diversify resources used with the use of non-valued resource (algae,
waste…). Thanks to technological advances, all biopolymers will be derived from non-food biomass in a near
future. Advantages of these materials are therefore to provide a greener alternative to the commonly used
polymers.
The main factors on which the use of bioplastics will have an impact on, are the reduction of greenhouse
gases emissions, the use of fossil resources and energy consumption during processing. For some bioplastics,
management of waste can be managed more effectively by the elimination in industrial composting facilities.
The transition to the concept of biorefinery or use of alternative energy will make production even cleaner.
FINISHED PRODUCTS
Collection
of organic
Transformation
waste
Bioplastic
life cycle
COMPOUNDS
R&D,
formulation
Biodegradation
Sun
RENEWABLE
Photosynthesis
CO / H o / Biomasse
2
2
RAW MATERIALS :
PLA, PHA...
Extraction
NATURAL RESOURCES
NaturePlast
The natural evolution of plastic

Acheteurs éco-responsables
Devenez membre et consultez gratuitement GreenVivo
Trouvez des solutions innovantes respectueuses de l'environnement
Accédez à la documentation
Comparez les offres
Obtenez des devis
En savoir plus
Je deviens membre

Fournisseurs de solutions
Inscrivez-vous et trouvez de nouveaux clients
Présentez vos produits & services

Augmentez votre visibilité
Générez des prospects qualifiés
En savoir plus
J'inscris mon entreprise

Ils nous font confiance

Ecomobilité Partenaires, Veolia, Legrand, Alstom Grid, HP, Siemens, EDF, Accenture, Aprolis, Gaz Electricité de Grenoble, Rhodia, IFP, Evasol, Soitec, Eolas...



Cleantech Republic
Rédaction
Vos futurs clients sont ici
Sait bauzille de putois
le 18/03/2019 16:53
1 nouveau contact intéressé par

La chapelle blanche saint martin
le 17/03/2019 23:22
1 nouveau contact intéressé par

Garges-lès-gonesse
le 17/03/2019 00:22
1 nouveau contact intéressé par

CleanTech TV
07/03/2016
Les villes portuaires entament elles-aussi leur mutation intelligente. Acteurs naturels de la mondialisation, qu'est-ce qu'une Smart Port City ? Eléments de réponse dans cette émission TV.
Toutes les vidéos