Vous recherchez dans le domaine des éco-innovations
Plus de critères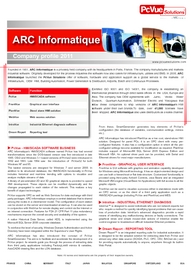 Descriptif
Présentation de la société ARC Informatique (Anglais)

Aperçu du contenu du document
Le contenu ci-après a été extrait automatiquement du document au format PDF afin de vous permettre d'en valider la pertinence. Pour bénéficier de la qualité de la mise en forme originale, nous vous proposons de télécharger le document.
ARC Informatique
Company profile 2011
Founded in 1981, ARC Informatique is a privately held company with its headquarters in Paris, France. The company manufactures and markets
industrial software. Original y developed for the process industries the software now also caters for infrastructure, utilities and BMS. In 2008, ARC
Informatique launched the PcVue Solutions offer of software, hardware and application support as a global service to the markets of
Infrastructure, OEM HMI, Building Automation, Power Generation & Distribution, Airports, Batch and Continuous Processes.
Certified ISO 9001 and ISO 14001, the company is establishing an
Software
Function
international presence through direct sales offices in the USA, Europe and
PcVue
HmI/SCAdA software
Asia. The company has OEM agreements with Jumo, Veolia Water
Division, Quantum Automation, Schneider Electric and Yokogawa that
FrontVue
Graphical user interface
al ow these companies to ship versions of ARC Informatique's HMI
software under their own brands.To date, over 41,000 licenses have
PlantVue
Stand alone HmI solution
been shipped. ARC Informatique also uses distributors as a sales channel.
WebVue
Web access solution
IntraVue
Industrial Ethernet diagnosis software
From these, SmartGenerator generates key elements of PcVue's
configuration (the database of variables, communication settings, mimics
dream Report
Reporting tool
etc.).
ARC Informatique has introduced PlantVue as a low cost, stand-alone HMI
solution. Designed for panel PCs, it is an OPC client with many pre-
configured features. It also has a configuration option in which al the pre-
PcVue - HmI/SCAdA SoFTWARE BUSINESS
configured settings become available for modification as required. PlantVue
ARC Informatique's HMI/SCADA software named PcVue has had several
includes support of Microsoft® SQL Server 2005 Express Edition and
transformations since the DOS-based version was first introduced in late
Microsoft VBA. An optional driver pack can be provided, with Serial and
1985. OS/2 and Windows 3.1 based versions of PcVue2 were introduced in
Ethernet drivers for most major manufacturers.
1992 and 1993. Late 1994 saw the introduction of PcVue32 for both
Windows NT and 95.
FrontVue - GRAPHICAL USER INTERFACE
The lastest versions are designed for Windows 7 and server 2008. In
FrontVue is GUI software with graphics and animation capability developed
addition to its structured database, the HMI/SCADA functionality in PcVue
for Windows using Microsoft technology. It has an object-oriented design and
includes historical and real-time trending with options to visualize and
can use both a hierarchical or flat data structure. Customized functionality is
analyze multiple streams of data.
provided using third party ActiveX Controls, Java Beans and an integrated
A library of pre-animated 2D and 3D graphical objects is provided to speed
Microsoft VBA engine (Visual Basic for Applications) with ful access to al the
HMI development. These objects can be modified dynamical y and the
graphic objects.
changes propagated to each station of the network. This realizes a key
FrontVue can be used to visualize a process either in standalone mode with
benefit of object technologies.
an OPC server, or as the client of a third party application such as a
PcVue supports OPC as wel as Web Services for data exchange with third
HMI/SCADA package (including PcVue and PlantVue) and MES.
party packages. ARC Informatique employs a central database that is shared
among the nodes in a client/server model. The configuration of each station
IntraVue - INdUSTRIAL ETHERNET dIAGNoSIS
can be stored on the server and downloaded at start-up. It can also be used
IntraVue™ is designed to assist individuals who are not network experts but
in conjunction with WebVue for remote display and control via the Internet or
who require a method for quickly identifying typical problems that can cause
an intranet connection. Features for FDA 21 CFR Part 11 plus redundancy
loss of production data. IntraVue's advanced diagnostics provide a rapid
mechanisms improve the overal security and availability of the system.
means of identifying any malfunctioning devices or faulty connections. The
A native Historical Data Server, cal ed HDS, is implemented using the
graphical views and simple mouse-click actions of IntraVue enable the
Microsoft SQL Server 2008 corporate database.
control engineer to troubleshoot difficult Industrial Ethernet problems.
To reinforce the level of security, Windows Domain Authentication and Active
dream Report - REPoRTING TooL
Directory have been integrated within the Supervisor's User Rights.
Dream Report™ is an integrated reporting suite for industrial automation. It
ARC Informatique has also introduced the concept of PcVue
is designed to be the simplest solution for extracting data from PcVue and
SmartGenerator. The aim is to facilitate and accelerate the development of a
almost any other data source (SCADA, PLC, OPC, CSV, BACnet etc.) and
PcVue project. Its wizards guide you through the process of extracting data
for providing reports automatical y to anyone, anywhere through its built-in
from third party applications including FactoryLink® mimics & variables,
Web Portal.
AutoCAD® drawing files and the LON database.
Note: Al names and trademarks are the property of their respective owners.
France cHIna GerManY ItalY Japan MalaYSIa SInGapOre SwItzerland UK USa
oFFICES
FRANCE - Aix Office
FRANCE - Grenoble Office
FRANCE - Lyon Office
FRANCE - Strasbourg Office
CHINA PcVue China
GERmANY PcVue GmbH
ITALY PcVue Srl
JAPAN PcVue Japan
mALAYSIA PcVue Sdn Bhd
Room 1007#
Mohnweg 2 A
Italy
Japan
ALSo dISTRIBUToRS/RESELLERS: Argentina, Australia, Benelux, Brazil, Canada, Chile, China, Finland, Greece, India, Indonesia, Italy,
Kuwait, Latvia, Lithuania, Malaysia, Morocco, Pakistan, Poland, Portugal, Russia, South Africa, Spain, Syria, Taiwan, Thailand, Tunisia,
Turkey, UAE, Ukraine, Venezuela etc.
SomE oF oUR CLIENTS...
AEROSPATIALE, AIR CANADA, AIR FRANCE, AIRBUS, ALCATEL, ARAMCO, ASF, AVENTIS, BANCO DE PORTUGAL, BASF,BAYER,
BG, TRANSCO, BOSCH, BSN, BRUSSELS AIRPORT, CABOT OIL & GAS, CARGILL, CERN, COCA COLA, DALKIA, DOW CORNING,
ECA, EDF, EGYPTALUM, EIFFEL, ELECTRABEL, ENERGOMASH, ENICHEM, FAURECIA, FIRMINICH, GAZPROM, GENEVA AIRPORT,
HENKEL, HUTCHINSON, HYDROQUEBEC, IBERDROLA, JAKARTA RAILWAYS, LAFARGE, LAVAZZA, L'OREAL, MAC KEY, MASTER
FOODS, MEXICO CITY SUBWAY, NESTLE, PARIS AIRPORT, PDVSA, PEMEX, PETROBRAS, PROCTER & GAMBLE, PSA,
PUBLIACQUA, RENAULT, RHENALU PECHINEY, RHODIA, SAINT GOBAIN, SAINT LOUIS SUCRE, SANOFI SYNTHELABO, SAPN,
SEAGATE, SEITA, SERONO, SERVIER, SINGAPORE METRO, SNCF, TAIPEI 101, TEFAL, THALES, THYSSEN, TOTAL FINA ELF, UBS,
UGINE, VALEO, etc.
France cHIna GerManY ItalY Japan MalaYSIa SInGapOre SwItzerland UK USa

Acheteurs éco-responsables
Devenez membre et consultez gratuitement GreenVivo
Trouvez des solutions innovantes respectueuses de l'environnement
Accédez à la documentation
Comparez les offres
Obtenez des devis
En savoir plus
Je deviens membre

Fournisseurs de solutions
Inscrivez-vous et trouvez de nouveaux clients
Présentez vos produits & services

Augmentez votre visibilité
Générez des prospects qualifiés
En savoir plus
J'inscris mon entreprise

Ils nous font confiance

Ecomobilité Partenaires, Veolia, Legrand, Alstom Grid, HP, Siemens, EDF, Accenture, Aprolis, Gaz Electricité de Grenoble, Rhodia, IFP, Evasol, Soitec, Eolas...



Cleantech Republic
Rédaction
Vos futurs clients sont ici
Xàtiva
le 22/02/2019 09:13
1 nouveau contact intéressé par

Moroni
le 21/02/2019 08:59
1 nouveau contact intéressé par

Moroni
le 21/02/2019 08:59
1 nouveau contact intéressé par

CleanTech TV
03/11/2015
Afin de mieux répondre aux demandes des smart cities, ABB a mis en place une organisation commerciale transversale dédiée à cette thématique. Mission : offrir aux collectivité un point de contact unique.
Toutes les vidéos